Cooperation between customs and IP owners
Registering a trademark is the first step towards protecting your mark, it allows you to take legal action in case someone tries to register a confusingly similar mark. Nonetheless you are not a super hero and you cannot prevent any fabrication of products bearing your trademark. Nowadays a lot of imported products are counterfeits. The main problem with these kinds of products is their bad quality and by consequence the risk that consumers confuse these counterfeit products with your own.
To help you stop or at least to prevent this sort of problem you can decide to work in cooperation with customs. The role of customs today is to facilitate trade and protect the interest of the European Union and its citizens. Customs control imported goods, and if you decide to sign an agreement and give them some information (it will be detailed later), they will be able to contact you when there are doubts regarding imported products. You will see that customs authorities play an important role in scrutinising and seizing counterfeit products before they can be sold to consumers.
It has now been 25 years that the EU customs personnel have had the power to seize fake goods.
From 1st January 2014, Regulation (EU) No 608/2013 of the European Parliament and of the Council of 12 June 2013 concerning customs enforcement of intellectual property rights repeals Council Regulation (EC) No 1383/2003 of 22 July 2003. The new regulation provides procedural rules for customs authorities to enforce intellectual property rights with regard to goods liable to customs supervision or customs control.
The Europa website emphasises the new regulation's advantages:
Expands the range of the intellectual property rights infringements covered
Adjusts procedures in order to reduce administrative burdens and costs
Ensures that high quality information is provided to customs so as to enable better risk management
Includes measures to ensure that the interests of legitimate traders are protected
In this article we will only talk about counterfeit goods specifically regarding trademarks. A good can be considered as counterfeit if the good itself or the packaging bears any valid trademark without having the authorisation to do so.
Who can ask for customs intervention and what does it cost?
Anyone who has a registered Community trademark can file an application to ask for customs intervention for the seizure of possible counterfeit goods.
There are no administrative costs for this application. However, when additional action is needed such as storage of the goods or transport, the trademark owner must refund the customs authorities.
Where do I have to go?
An application for customs seizure action can be made with the relevant institutions of each member state.
What sorts of information do you need to provide?
For each trademark you own and you wish to be protected you need to give the following information:
Type of right: figurative, semi-figurative, etc.
Name of the office where the trademark is registered
Name or graphic representation of your trademark
Registration number and registration date
Expiration date
Classes: it allows for the customs to know which kinds of goods are covered by your trademark
You must also provide contact information to allow the customs office to contact you in case of seizure of counterfeit products.
Day to day activity
Once you have filed the customs seizure application, the European Union offices will begin to watch out and seize goods that may be counterfeit. If goods are seized, you will receive an email from the customs office. Most of the time, the email has the following information:
Name of the country or city that seized the goods
Nature of the goods seized
Number of goods seized
A request for what action you would like to take
Attached to the email you will have pictures of the goods and a case report. The case report may not always be present, depending on the country.
In your fight against counterfeit products, you can decide to become a member of React, it is a not-for-profit organisation that will help you fight against counterfeit products. As it is a private organisation, their service is not free, you have to become a member.
Here is an example of a case report from Slovakia from React; information regarding the mark has been redacted.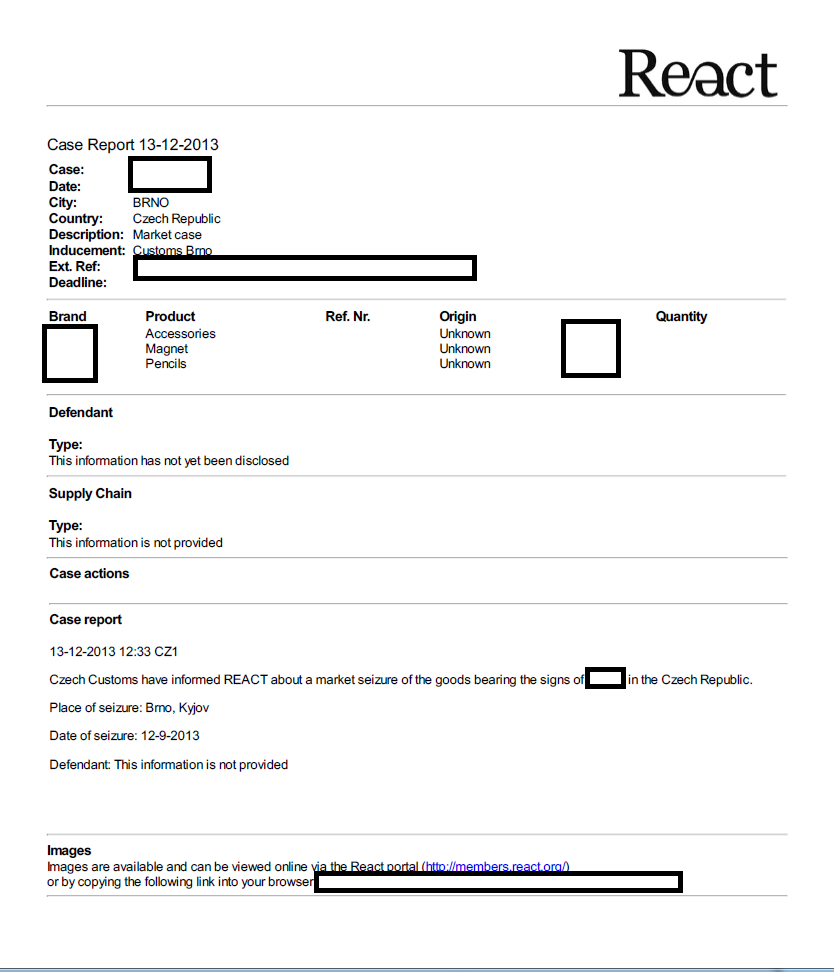 Once you receive the customs communication by email, it is your responsibility to answer them and to give them necessary information. Your answer should include the following points:
Confirming the receipt of the email and confirming (or not) the products are counterfeit.
In a second paragraph you should detail which trademark is infringed: give the name of the trademark, where it is registered, the registration number and the validity of the trademark (in most countries a trademark is valid for ten years), precise in which year your trademark needed to be renewed.
In a third paragraph you should explain why the product is counterfeit. Concretely you have to describe your own trademark and to say that the counterfeit product has a sign really similar but because of some details you can say it is counterfeit goods.
To wrap up, reiterate what you said in the first paragraph, ask the customs for the action you would like them to take: stocking the goods or destroying them. You can also provide them with the name of your licensee and the price the original product sells for. The price is provided in order to determine the amount of the fine paid by the counterfeiter.
Find hereafter an example of an email you could send after receiving a customs demand:
Dear Sir or Madam,
We acknowledge safe receipt of your email dated […]. After reviewing the pictures attached to your email, we can confirm that the products in question [product name] are effectively *infringing our intellectual property rights and therefore *create a likelihood of confusion between our original products and these counterfeit products.
[Product name]
*We kindly inform you that [trademark name] is a Community trademark / International trademark / French trademark registered by [company name] in class [number] under registration number [xxx] and valid until [date].*
*The sign reproduced on the [product name] is very similar to our registered [trademark name] consisting of [here is the place to describe your trademark].*
Example of how to describe a trademark: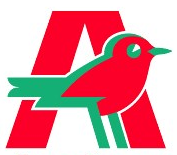 If we take as an example the French supermarket group Auchan, it could be possible to say […] consisting of the letter A in red and capital letter with a magpie in the middle of the letter. The magpie is red on its major part with some green elements such its eye, its tail and its beak.
In cases where the email comprises several products, you would write one paragraph per product. Having one paragraph per product may look like redundant but it gives a really clear analysis for the customs officials.
Considering the above mentioned elements, we confirm you that we did not authorise the use of our trademark on these products. Therefore the *utilisation of our validly registered trademark is infringing our intellectual property rights.*
*We ask you to seize and stock / destroy the counterfeit goods.*
*Kind regards,*
*Legal service of [company name]*
To make your email even clearer you can insert a little picture of your trademark in the email. Visual representation is a good way for people to remember your trademark.
A customs watch over your trademark is something that can be really valuable to your business and be a complementary action with software watching for a new registration of a trademark similar to yours.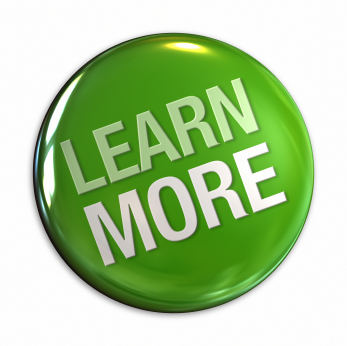 European Union Commission: Taxation and customs union, EU customs strategy
A really interesting article on the website IP-watch: new EU customs regulation might allow wrongful seizure of generic drugs in transit, NGOs say. This article discusses the problem of seizure by EU customs of drugs just transiting through the EU because of patent issue the right may not exist outside EU's borders.